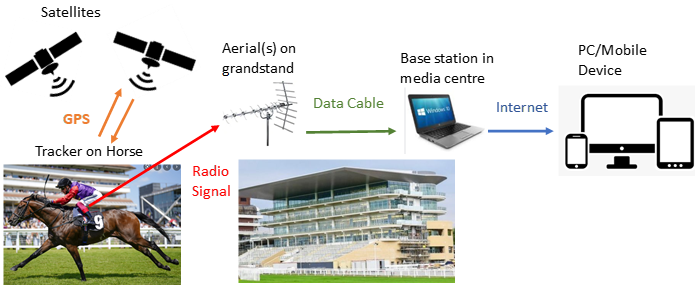 Live in-play data including speeds, positions and GPS co-ordinates are collected in real time, with trackers in the horse's saddle cloths, then transmitted to your chosen betting platform, via TPD servers, for you to bet and trade against. 
Using the latest GNSS / GPS positioning technology, designed and developed in Cambridge, TPD's Race Pace positioning data, streams live, in race, real time positions within fractions of a second. Speed, stride length, distance and split time calculations are all transmitted while the race is in progress. 
The GPS data quantifies racing efficiency in real-time and is nothing short of revolutionary. The data helps you open positions early into races, for example to lay short priced horses running with the choke out, and back horses at good prices and who are running efficiently.